Fresh Cucumber and Tomato Salad
Easy, fresh, delicious side dish that pairs well with any BBQ'd or smoked protein! Brisket, pulled pork, and barbecued chicken!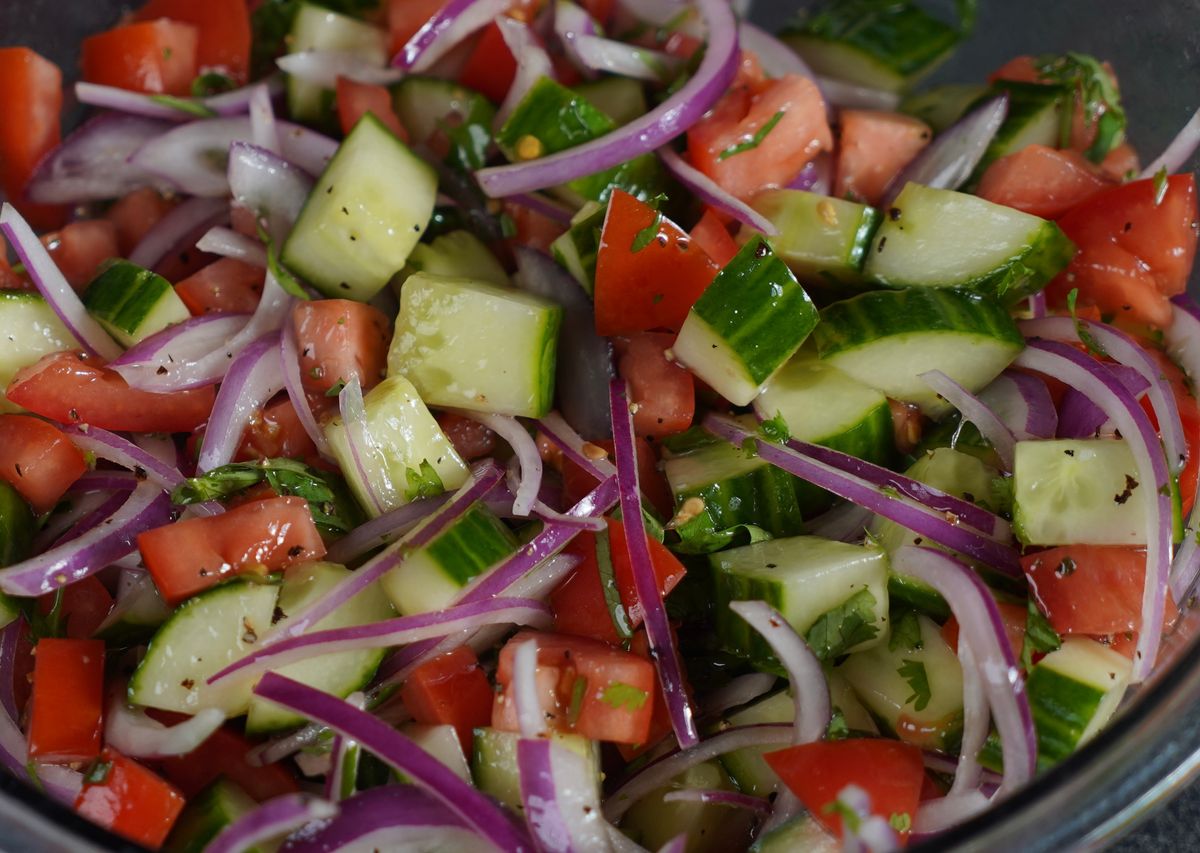 I Created This Recipe to Use Up Fresh Garden Produce
If you're looking for a recipe that's perfect for using up those crisp cucumbers and juicy tomatoes straight from the garden, this is for you. This Fresh Cucumber and Tomato Salad not only used your fresh veggies, but is the perfect side dish for any meal!
Why is This a Fantastic Recipe for Garden-Fresh Produce?
Fresh produce from the garden is unmatched in flavor and quality. When you use vegetables picked at their peak, minimal additions are needed to make them shine. This salad emphasizes the natural tastes of the cucumber and tomato, letting their crispness and juiciness take center stage.
The Perfect Complement to Your Smoked or Barbecued Proteins
Planning a barbecue this weekend?
This fresh salad pairs exceptionally well with smoked or barbecued proteins. Its refreshing nature perfectly balances the deep, smoky flavors, ensuring a meal that hits every flavor note.
Should You Prepare Your Salad in Advance: Yes or No?
Absolutely!
While you can serve this salad immediately after making it, letting it sit in the refrigerator for a few hours will allow the flavors to meld, enhancing its taste. So, if you're hosting a party, you can prepare this salad earlier in the day and simply serve it when it's time!
What Should You Pair Cucumber and Tomato Salad With?
How to Make Fresh Cucumber and Tomato Salad: A Step-by-Step Guide
Ingredients:
1 whole cucumber, diced into even chunks
4 Roma tomatoes (though any tomato variety will do), diced into even sizes as the cucumber
1/2 red onion, julienne sliced
1/2 bunch cilantro, finely chopped
Salt and pepper to taste
Dressing: 1/3 cup olive oil, 1/3 cup red wine vinegar
Instructions:
In a large mixing bowl, combine the cucumber, tomatoes, red onion, and cilantro.
In a separate bowl, whisk together the olive oil and red wine vinegar. Pour over the vegetable mix.
Season with salt and pepper and give everything a good toss.
Serve immediately or refrigerate for a few hours for an intensified flavor.
Spice Things Up: Fun Variations to Try
Looking to add a twist? Sprinkle in 1/2 tablespoon of Tajin for a zesty, spicy kick. If herbs are more your style, add 1/2 teaspoon each of dried oregano and dried parsley. These variations ensure a new flavor experience each time!
---
There you have it! Fresh Cucumber and Tomato Salad - a garden-fresh side dish that's both versatile and easy to prepare. Whether you're hosting a barbecue or simply enjoying a quiet meal at home, this salad is sure to be a hit. Happy eating!